Your speak up platform's success starts here
Communicate efficiently about whistleblowing in your organization
DISCOVER THE KIT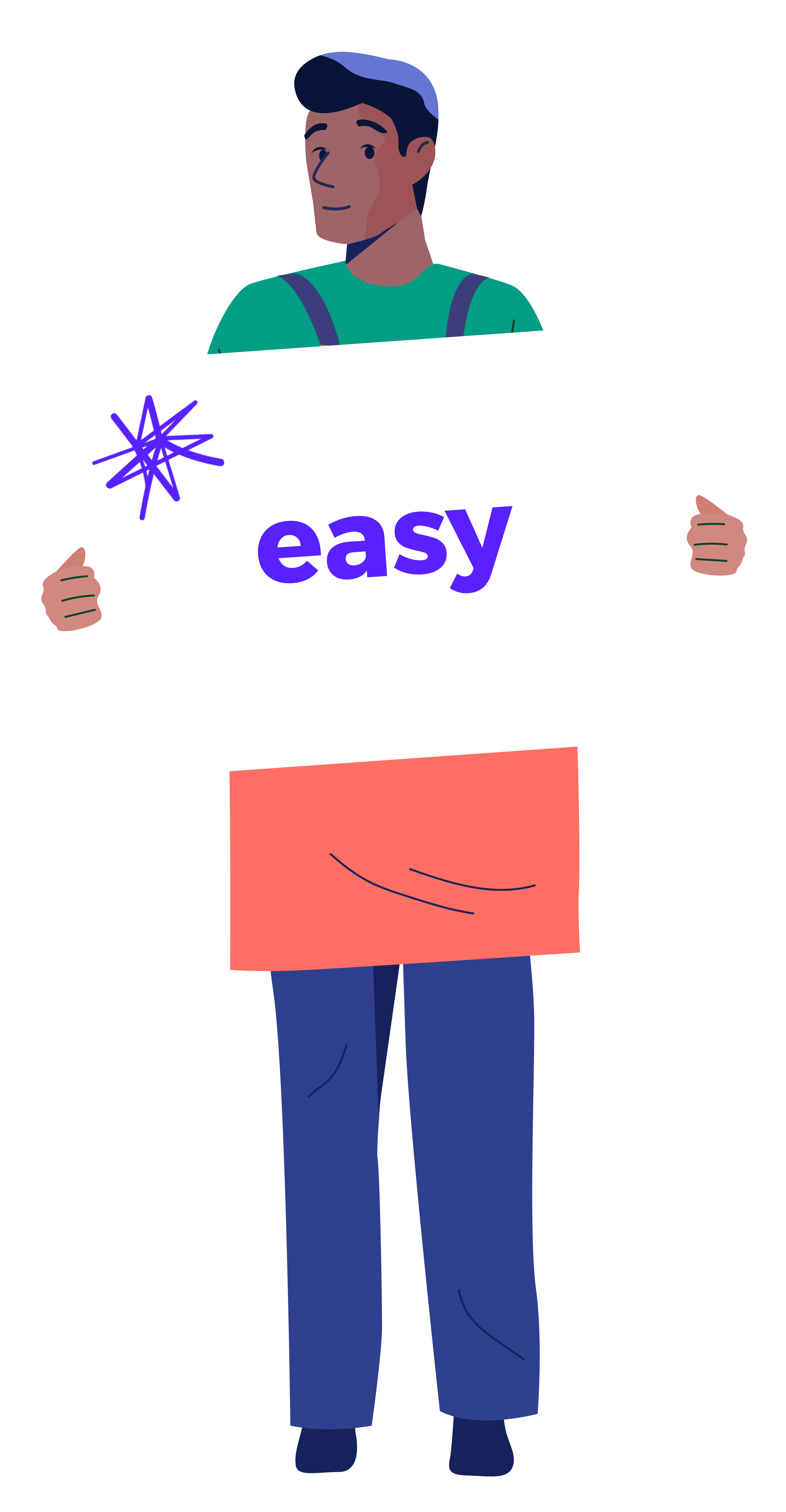 Inform your staff in a fun and reassuring way

Remind them regularly how they can speak up
Make sure they know where to find the platform
Support your whistleblowing platform with a high quality communication kit
Our high quality communication kit guarantees the success of your whistleblowing platform. Whispli provides all the resources you need to communicate efficiently and regularly about your whistleblowing platform and lift the obstacles your employees and third parties may face when they need to report.
Get rid of obstacles and barriers to successfully run your whistleblowing program
The video kit removes all the common challenges many encounter when managing a Whistleblowing platform.
The Whispli communication kit addresses all your challenges
No one remembers there is a Speak Up platform available
Challenge
You had great engagement initially but find it difficult to maintain interest. Gradually, people forgot there is a platform at their disposal.
solution
With a toolbox of resources in various formats, you have content you can use regularly to remind them about Whispli: social media posts, gifs, posters, email signatures.
result
Your employees are constantly reminded about the platform and will automatically use it when they need to report an incident.
Download the 2023 Ethics Calendar and send useful reminders to your teams on key national and international dates.
Get the calendar
People know about the platform but you don't get any reports
Challenge
Employees and third parties visit your landing page but you still don't get any reports. They may not feel confident enough about the platform. They may not be aware that they can be anonymous and will be able to follow up on their reports.
Solution
The video provides information about the informant journey; they know that:
They can start a report but not send it right away
They can be anonymous
They will be able to follow up
The other resources in the kit can be leveraged to communicate around specific issues (anonymity, security, etc.)
Result
Your employees are reassured that they will be protected and can safely report.
Wondering why your organization is not receiving reports?
Discover the key elements to take into consideration to have an effective whistleblowing program and tool within your organization.
Read more
You get reports but they are not within the scope of whistleblowing
Challenge
Your platform is used by employees who complain about lack of salary raises or promotions, etc.
Solution
The video details the various types of misconduct that can be reported. A leaflet can be provided with the various categories of whistleblowing you want to include in your SpeakUp platform. Social media posts can be shared regularly to inform on specific categories (Conflict of Interest, Corruption, Bullying, etc.)
Result
You only receive relevant reports.
How to write a whistleblowing policy & downloadable template
Understand what are the best practices in writing a whistleblowing policy step by step, and kickstart your policy with our downloadable template.
Read more
Introduction Video
Whispli commissioned a top motion design agency to create a high-quality video for your program. The video introduces the platform in a warm and reassuring way. 
It is already available in 3 languages: English, Spanish & French with or without subtitles. 
More languages and/or subtitles can be added.
Image Bank
Leverage the image bank with the characters and situations from the video for Communications Teams, and create custom materials.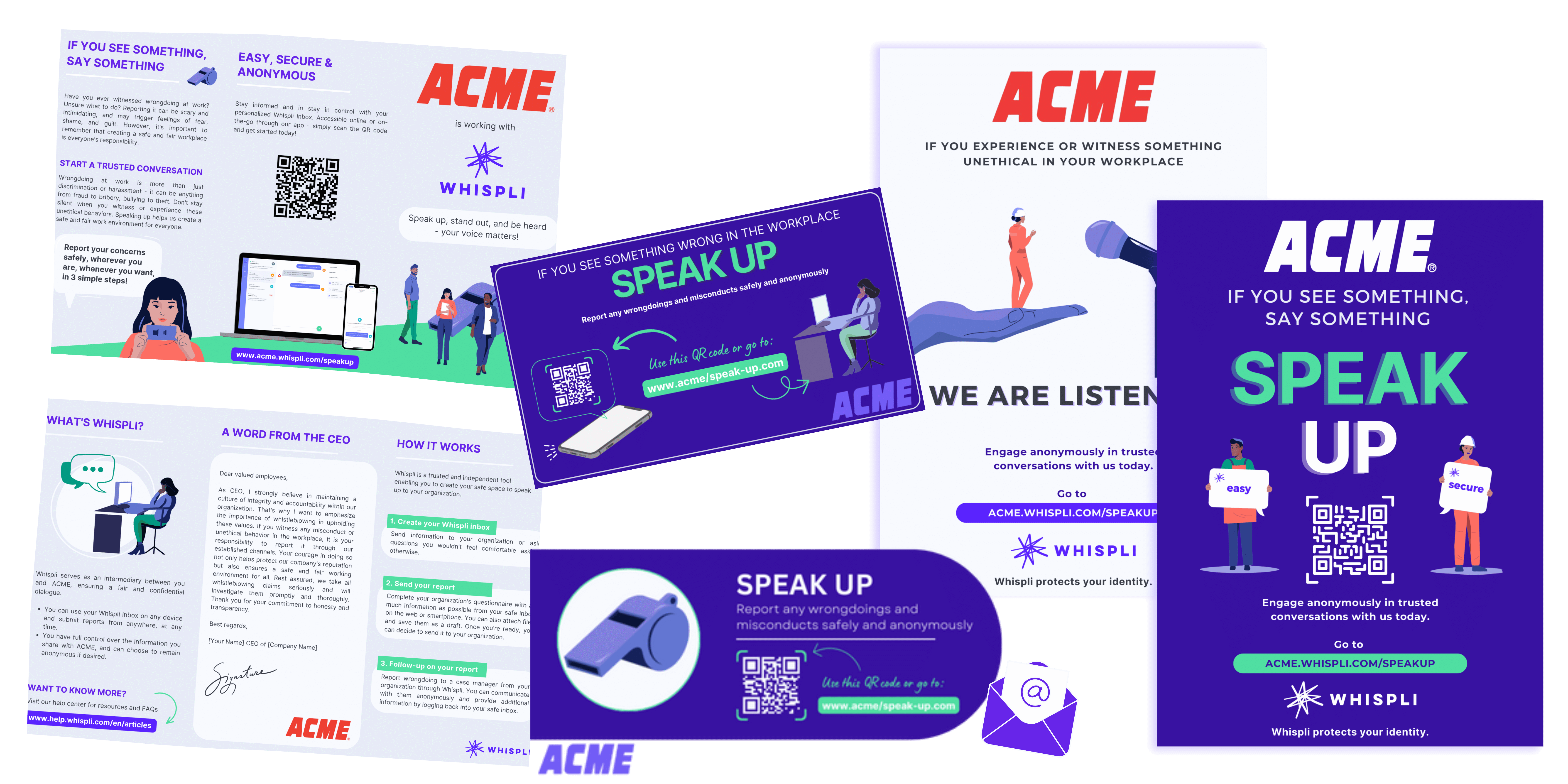 Communication Templates
Whispli provides templates for common communications materials: posters, leaflets, business cards, email signatures, social media posts, etc.
Get your premium communication kit